Lord's Taverners NNSW have just entered a really interesting deal with the Malawi Cricket Union. The MCU is now fully affiliated with the ICC and is growing rapidly.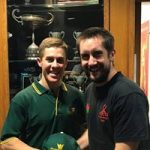 For the last couple of years it has become increasingly difficult for us to place our young cricketers in the UK due to
some rather prohibitive rules that the EWCB has introduced.
Through the excellent work that our member, Ben Gwilliam, has done, together with a lad who has been associated with the Youth Ambassadors in Queensland, Reegan Brown, we now have an exciting new program-in-planning! We are helping sponsor Reegan on a contracted trip to Malawi
There Reegan will play cricket (he is a first grader in Brisbane), coach cricket (he has a Level 2 accreditation) and set up a future interchange for young players from our Northern NSW region. This will give our young lads a cricketing/cultural experience better than we could have designed ourselves.
We will keep you posted on the latest developments through our Facebook page.
See the thank you message below from Vivek Ganesan – President of the Malawi Cricket Union and Founder of The Cricket Academy. There are some really exciting possibilities ahead!
For more information and Application Forms, go to http://www.lordstaverners-northernnsw.com.au/malawi-cricket-internship/