The Lord's Taverners Northern NSW Branch was launched on July 15 this year with very strong interest from many people throughout the Northern NSW region from Taree through to Tweed Heads.
On the launch, Lismore City Council granted the keys to the Branch of the Gordon Pavilion at Oakes Oval in Lismore, a ground with a good reputation and strong tradition in cricketing circles, ensuring the Branch a home base for all meetings and appropriate events.
The generous offer of Council to allow the facility to be used by the Lord's Taverners Northern NSW Branch was accepted with much gratitude.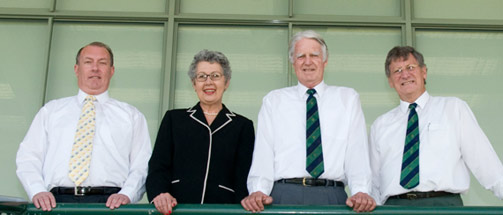 Pictured on Gordon Pavilion at Oakes Oval Lismore are (from left) Lismore City Council General Manager Paul Sullivan and Mayor of Lismore Cr.Jenny Dowell, with Lord's Taverners Northern NSW Branch President Warren Noble and Branch Chairman Stan Gilchrist.
The Background
It all began with a group of cricket-loving spectators who used to regularly congregate at the Tavern at the Lords Cricket Ground in England. Through general conversation they decided they wanted to give those who were young, disadvantaged and disabled a better chance of furthering their love of and involvement in the game of cricket, and any sport for that matter, than they would normally be have any opportunity of. So, there formed the start of the organisation called "Lord's Taverners".
The Lord's Taverners Australia was formed in 1982. We are an autonomous organisation with branches in all States and Territories of Australia, with approximately 2500 members.
Our members come from all walks of life with media, the professions, the arts, entertainment and business communities being well represented. What we have in common is a love of
sport generally, a love of cricket and most importantly a desire to raise money to support disadvantaged and/or disabled children.
We believe in a balance of membership so that the commercially inclined can assist with fund-raising, the sports lovers can identify specific needs and causes to support and the media
oriented can promote the events we hold, the causes we support and results we achieve.
Also, through the nature of the events organised we actively seek to promote a feeling of fellowship among our members. Whilst our membership is predominantly male, we have an
increasing number of women members and wish to encourage more women to join.
The Lord's Taverners Australia is best described as a charitable association which exists through membership subscriptions, sponsorship, fund-raising activities and donations.
All monies in excess of administration expenses are distributed to worthy causes.