Annual General Meeting Reveals Achievements
Monday, August 13th, 2012 – 7.30pm
Gordon Pavilion, Oakes Oval, Lismore.
35 Members attended our Annual General meeting , which consisted of a very short business meeting but a slightly longer General Meeting. A considerable amount of information about past, present and future activities was presented by President Denis Byrne, Treasurer John Buttrum, and other members involved with special tasks.
Here, John presents the financial statements: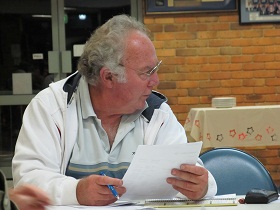 while the attentive members listen with interest: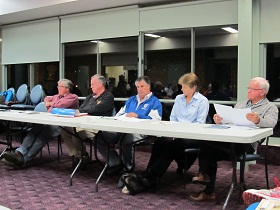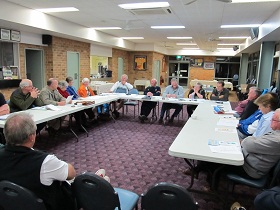 Reports were given on activities in which our branch is involved, including;
Our sponsorship of young and disadvantaged cricketers, netballers, futsal players, rowers, wheelchair boccia players and athletes,
Twenty20 Cricket for Secondary Schools for the Adam Gilchrist, Matthew Phelps and the Lyn Larsen Shields (new this season for girls' teams' competition),
Modified and Table-Top Cricket for disabled youth,
The "Lone Stars" coaching and development program in partnership with the North Coast Academy of Sport, developed to assist disadvantaged individual sporting youngsters,
The attainment of DGR (deductible gift recipient) status, allowing us to accept tax deductible donations, leading to-
Our Corporate Sponsorship program with donations being earmarked specifically for our University Scholarship Fund, which in turn allows us to fund-
Our University Scholarship at Southern Cross University, for a disadvantaged student or a student who intends to work with disadvantaged youth,
Regional activites in our distant centres, such as Mini-Olympics days, finding speakers for local activities, reinvigoration and development of cricket in areas where there has been a decline,
Our Top Sports Camp for youth who are disadvantaged by geography, finances, disabilities or aboriginality,
 And, of course, our program of dinners and breakfasts where we present outstanding guest speakers to members and their guests. This year we have also been awarded the honour of hosting the National Conference of Lord's Taverners Australia – this will be held at the Byron at Byron Resort in February, and involve senior administrators from throughout Australia.
 Our membership has just exceeded 100, and the meetings were enthusiastic about other activities proposed and discussed. The future keeps looking brighter, thanks to a wonderfully enthusiastic and committeed Management Committee and membership.