Ben McInnes, our male cricketer going to England – his story!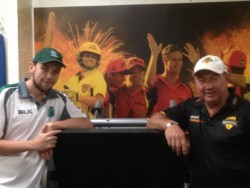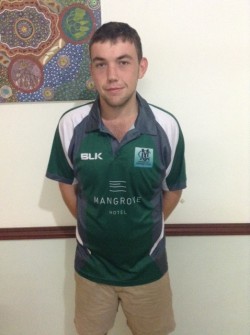 Dan McInnes (Father) "We were told after a 13 year misdiagnosis of a very rare form of JIA to apply for disability support pension for Ben to assist for later in life as he would not play sports or work as a normal young man may expect due to his illness. Coupled with the fact that his education was hindered by spending all of his senior school years hospital or in bed, the pension would be the most appropriate path. "The passion that Ben showed and the determination to not give up and to play cricket and achieve what he has, has made us very proud as parents which goes without saying as it is against all odds. "Ben had been asking how he could help others in some way for 18 months after some success with a new drug as the time in and around hospitals has given him a remarkable outlook and automatically says when asked how he is going "I'm ok, there's worse off than me" as a result. "As he had asked repeatedly if there were any ways he could get involved in helping I started to research potential avenues to explore. As a level 2 coach who has worked throughout the bush over almost 15 years, I had heard of the Lord's Taverners and the work they did so googled it one night. "After reading through it I filled in the Adam Gilchrist Scholarship application and thought it may at least open a conversation on where we might start, never thinking that it would lead where it has. "Almost immediately I was cc'd on an email from Stan Gilchrist to Graeme Hoskins, Chairman of the Lords Taverners NNSW branch expressing interest and asking for it to be explored."
Graeme Hoskins (Chairman of the Cricket Placements Committee): "Lord's Taverners NNSW began to explore how we could help Ben realise his dream of playing cricket in England, and as we regularly send 3 or 4 players a year to the UK, we had a number of clubs that we could contact before finally settling on the St Alban's cricket club which is close to London. St Alban's Chairman, Paul Sands, immediately responded in a very positive manner and the club has provided a wonderful package which includes accommodation and the chance for Ben to be involved in a favourite past time of coaching and helping young players develop. Ben will leave Australia at the end of April and will return in September. Lord's Taverners NNSW has been honoured to have been involved with both Ben and his parents Dan and Sharon over the last 12 months in helping to organise Ben's placement and feel sure that this will be an absolutely wonderful trip of a life time."
Stan Gilchrist (Branch Chairman to key personnel who have made all of this possible): "Good morning Paul, Dan, Golders, Tim and Graeme
"I am very appreciative of all that you guys are doing for Ben, and also for the other kids we are sending to the UK this year.
"Away back in time (2003) when Adam asked me to set up a program to duplicate his 1989 season with Richmond Cricket Club I could never have imagined where this has led. But at that time I had only ever heard of you, Golders – and that only because you wouldn't let Adam keep wickets for Richmond!!!!!
"But then I hadn't heard of Lord's Taverners, Graeme Hoskins or you others!
"The work you guys do, the opportunities you facilitate for young boys and girls, the compassion with which you look after them and the way you work together has led to a total package of which many of our Taverners' Branches are envious – and a program of which I am in awe. And I know that Adam is equally impressed.
"This is the sort of "grassroots" program that ultimately provides players for every level of cricket both in Australia and beyond.
"All I can say is THANK YOU AND CONGRATULATIONS! Long may your efforts, and our Lord's Taverners Cricket Placements Program and the Adam Gilchrist Cricket Scholarship continue.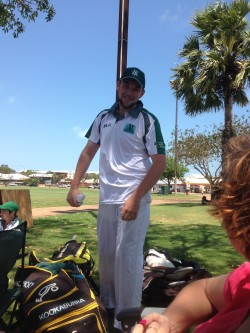 Greg Brown (National Chairman) "This is one of the GREAT stories emanating from our work.  Special congratulations to Stan & his crew.  Cheers, Brownie"