Country Networks
Our branch of Lord's Taverners Australia does not have the benefits of a large local population from which to attract our membership. We do not have the benefit of hosting international Cricket matches to which we can attach fund-raising functions. We are not lucky enough to have many international sporting stars living within our area. Whilst we have beautiful golf courses, we cannot attract famous sporting personalities to come to the bush to participate in special golfing events. We exist in a relatively sparsely populated part of Australia from which we must visit larger cities if we want to see international sport or hear international speakers on a regular basis.
Because we do not want our branch to be restricted by geography, demographics or pure distribution of population we have embarked on an adventurous plan of encouraging new members in towns and cities outside of our central city, Lismore.
With the enthusiastic assistance of  members designated as "Captains" in centres which are beyond about 100km from Lismore, we are promoting all aspects of what Lord's Taverners is all about, especially the benefits of membership for both national and local levels, our desire to give the young and disadvantaged a sporting chance throughout Northern NSW, and our ability to help our country kids to reach further towards their sporting goals.
Captains were often recruited  from new members who had joined as a result of either personal relationships with some of the original Foundation membership in and near Lismore, or as a result of the gradual outward momentum of news of what the branch was achieving. Captains, in turn, were able to promote Lord's Taverners in their local communities, especially where they had been able to identify a youngster needing help and we were able to oblige.
So we now have this network of widely separated members in geographically spaced centres throughout Northern NSW, coordinated locally by their Captains, with each separate centre seeking new members, identifying the young and disadvantaged who might need assistance in pursuing their sporting dreams, and seeking to arrange local functions to entertain local members and the local public by attracting special guests. In the past we have arranged a speaker (Julia Price, former Australian Womens' Cricket team member) to be the guest at the Gunnedah Pink Tie Ball. Recently we have made a special visit to Narrabri to meet with the local members and guests. Soon we will be hosting a fund-raising function at Taree with Geoff Lawson as the guest speaker. We have assisted our Captain at Collarenebri to re-establish cricket into that town and helped our Tenterfield Captain try to resuscitate cricket there. Our outreach is increasing all the time.
The new cricket pitch at Collarenebri, and the "Colly Cods" team.
 Tenterfield players being coached by Phelps Shield winners from Lismore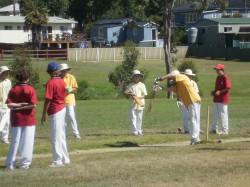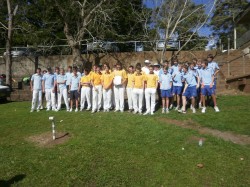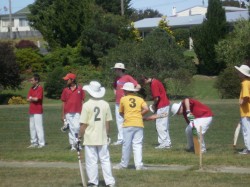 As a branch Executive, we support these Captains and "remote" members by helping to arrange the speakers, by facilitating financial grants to deserving youngsters, and by keeping local media informed of activities which may interest local people. This website will continue to feature articles by and about activities and people in our outer regions. And finally, we are now investigating, following the advice of our Patron, Adam Gilchrist AM, of bringing outstanding personalities to these regions per medium of Google Hangouts. This is a special internationally used initiative of the Google organisation whereby large groups of participants can engage via computer links in their own homes with a special guest, including having that guest address the assembled audience, then respond to questions or comments from connected members of the "audience" – just as if in a large theatre or function centre. We have yet to refine our understanding and use of Google Hangouts, but watch this space!
In summary, we now have a strong membership base of local and remote members, an effective network of Captains, and a developing reputation of being a compassionate organisation which looks out for the young and disadvantaged throughout this very large and diverse region of Australia. We are all proud to be Lord's Taverners.