Chris Hendry To Play In The National Cricket Championships
Ballina Cricketer is to represent NSW in the upcoming national All Abilities cricket carnival in Geelong early in the new year. Chris was selected from trials in Newcastle recently, and has become a bit of a legend in cricket in his local area.
But this is not the first time Chris has represented in sport. Here he is with a bronze medal from the Special Olympics in 2014.
And here is his 2016 Cricket Bronze.
Earlier in his life Chris was an outstanding sprinter, achieving gold and silver medals. He has represented in ten-pin bowling and indoor cricket as well.
But now it's down to the bat and ball out on the cricket field. Chris has gained a reputation for sportsmanship and is seen as an "impact player" – the player who will create opportunities for his team. Chris' carer is his lovely mum, Mary-Ellen and here they are together.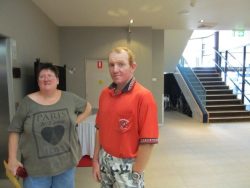 Good luck, Chris, from all of us.