Gilly and Buck provide some inside information.
In a night devoted to both our agreed arrangement of bringing international speakers to our region, and honouring the "Legends" of Lismore's Trinity Catholic College, Adam Gilchrist and John Buchanan provided some most interesting information from inside the Australian cricket team's dressing room. By being the interviewer instead of the interviewed, Adam was able to extract some revealing information about what goes on within the team environment. While never saying anything too revealing about any player, official or "hanger-on", they together gave us all a new appreciation of the skills, attitudes and commitment of some of our best cricketers.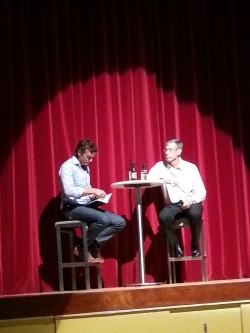 Adam & Buck
Earlier, Adam and Buck had been members of a "Gilly's Grill" panel show where contestants were competing for the much-lauded Gilly's Grill Trophy. "Legends" Matt Buckley (Australian Baseball star) and Lisa Casagrande (Australian Soccer star) were joined by Buck, Federal MP Kevin Hogan, Southern Cross University Vice-Chancellor Peter Lee and "Our Kids" organiser Rebekka Battista as panelists. They were presented with questions about sport, events and local issues, with correct answers being awarded points by the "obviously biased" chairman, Adam. (He must have been biased because AS ALWAYS the contest came down to the final question to decide the winner!!!)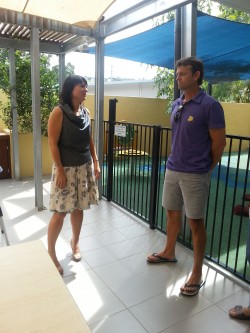 Adam with Rebekka Battista at Our House
The Trinity "Legends" are those past and present students of the College who have represented Australia in their chosen sport, and others present on the night were Danny Lee (Rugby League), Barry Wappett (Baseball), Matt Gahan (Baseball), Peter Gahan (Baseball) and Barry Pratt (Baseball), while current students who are well on the way to national honours at the top level include Georgia Keen, Brad Hughes, Tobyn Burvill, Ted Pye and Josh Brown, all current Year 12 students.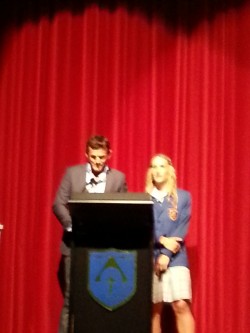 Adam & Georgia
Georgia Keen was our compere for the event, and by combining her lovely personality with the guidance from Adam, provided us with a friendly and personable evening. She deserves our sincere congratulations for a job well done.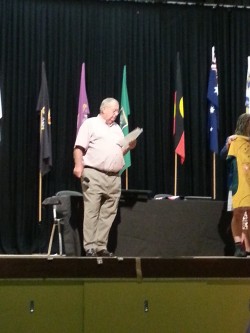 Auctioneer extrodinaire Dick Osborne
Auctioneer Dick Osborne provided us with some different entertainment, and extracted quite a lot of money from many who were there bidding for special memorabilia, while the University Caterers again provided an excellent meal.
Our thanks are extended to all who contributed to the night, especially Kaylene and the staff at Lismore Cruise and Travel, Mick Davies and Matt Barlow and staff and students of Trinity College, and the significant group of our own members who worked so hard to set up the venue, a job very well done.