Former Prime Minister is guest of the branch.
It is not often that we country folks have the opportunity to get up close and personal with a former Prime Minister of our country. Yet that is exactly what almost 150 Lord's Taverners and their guests did in October 2011.
Mr John Howard came to our Top Sports Night, and as a result of some excellent organisation by our Events Sub-committee, shook hands and spoke personally with every person present. So committed to the opportunity to interact at such a personal level was Mr Howard that, towards the end of the evening, he called out "Who haven't I had a chance to meet?" He met Taverners and their guests, young and old. Here he is with our Eileen Gray:-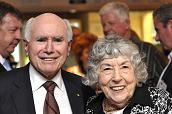 Mr Howard then gave a really enthralling address with minimal reference to politics, but laced with interesting aspects of his life and love of sport, especially cricket.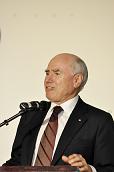 Many present said this was our best event to date, but wait until the next one!!!!!!!