LTNNSW & NIAS Partnership Launch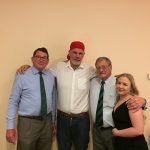 A new partnership was recently launched between LTNNSW and the Northern Inland Academy of Sport (NIAS) at a dinner in Tamworth. NIAS offers opportunities to athletes from the Northern Inland region of NSW. Many of these athletes are financially disadvantaged and with the tyranny of distance, their opportunities to progress are limited. Through their Lonestar programme athletes with a disability are also welcomed to ensure there is a pathway and an opportunity for them to progress in their desired sport.
These two organizations are greatly aligned in their vision and mission. As we join forces we will look to grow and improve the opportunities available to young people in this region, changing their lives for the better on and off the field.
Pictured: Bruce Ward (LTNNSW), Peter Fitzsimons (Guest Speaker), Stan Gilchrist (LTNNSW) & Madison Rawsthorne (UNE)