National Raffle again to help Clubs
This year the Lord's Taverners national raffle is bigger and better than ever. Here are the details for any club in which you are involved:
First Prize
Fly Etihad Business Class to Amsterdam to join your 15 day Magnificent Europe cruise
Prize includes 2 return Business Class airfares supplied by Etihad Airways to Amsterdam from your nearest Australian Capital City (Australian internal flights Economy class), 15 day Magnificent Europe cruise from Amsterdam to Budapest in a "P" cabin (full details and departure dates see www.lordstavernersaus.org.au) courtesy APT.
Value up to $43,000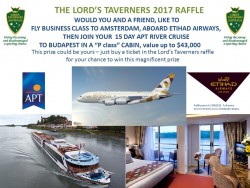 Second Prize
White goods courtesy Electrolux and Harvey Norman for your home up to the value of $10,000 (RRP)
Value of prize up to $10,000
Third Prize
The Ultimate Cricket Outfit. A cricket kit supplied by Kookaburra Sporting goods, comprising bat, pads, gloves and kit bag and more.
Value of prize up to $3,000
Fourth Prize
Cricket bat autographed by the Australian Cricket Team
Value of prize up to $2,000
TICKETS
Tickets sell for $5.00 each and come in books of 10 tickets. Just think – for every book sold your club can keep $2.50!
HOW DO YOU GET INVOLVED?
If you want your club to be involved please email chairman@lordstaverners-northernnsw.com.au with the following details:
1. The Name of the Club/organisation to be involved
2. The Name of the Contact Person
3. Contact Phone Number
4. email address for Contact person
5. Number of Raffle Books in the first order (10 tickets in each – you can always get more later! Tickets sell for $5.00 each)
As soon as you confirm I will send you more details, all posters, and an electronic copy of the Raffle Control Sheet so you can keep close tabs on every book we send to you. I will have tickets in the next weeks, so please get your responses in early. As soon as the tickets arrive we will send you your required number of books and some Reply Paid envelopes.