Run Around "Oz"

David Alley is a northern NSW lad who rode his bicycle around Australia several years ago, took the record from some overseas riders and raised a lot of funds for the Royal Flying Doctor Service.
Next month he is starting another circuit of this wonderful country of ours – this time he is going to RUN around and try to take the record from Pat Farmer, become the first man to have completed the "big lap" both by cycling and then by running, and raise a significant amount of money for the White Cloud Foundation. This "event" will be forever known as RAA2 ("Run Around Australia 2")
White Cloud is a mental health organisation, and  you will find out a lot about White Cloud, about David Alley, and about his epic plans of running two marathons a day for almost six months, and how you can help by logging on HERE!!!
Our branch is supporting David and his magnificent team on this run, and will be trying to have Lord's Taverners branches throughout Australia join in the journey.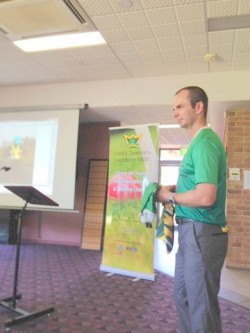 Dave Alley at the Lismore Media Launch on 24th March 2015,
just 25 days before "Kick Off".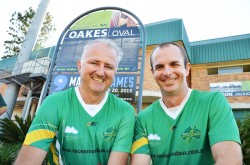 Dave Lees (Manager) and Dave Alley (the Runner) at the Media Launch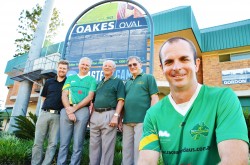 Dave Alley backed by Mitch Lowe (Lismore City Council), Dave Lees (Manager), Denis Byrne (President LTNNSW) and Stan Gilchrist (Chairman LTNNSW) in front of Oakes Oval, from where Dave Alley will start his run on 19th April 2015.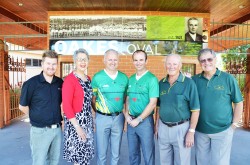 The Lismore City Council team (Mitch Lowe and Mayor Jenny Dowell) with the RAA2 team and Lord's Taverners Northern NSW.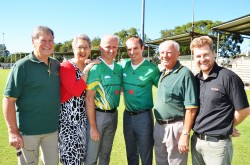 Wishing Dave Alley all the best from Lismore.