Tony Dell speaks at Coffs Harbour function.
Coffs Harbour Luncheon.
Lord's Taverners Northern NSW branch is proud to announce that wehave hosted a luncheon at Coffs Harbour on Saturday 28th April, 2012. The eventwas held at the Coffs Harbour Deep Sea Fishing Club, a magnificent venue overlooking the ocean.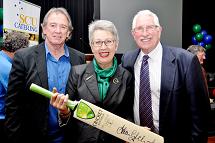 Guest speaker at the functionwas ex-Test fast bowler, Tony Dell (seen here with Lismore Mayor Jenny Dowell and fellow ex-Test fast bowler, Max Walker.) Tony is also a Vietnam veteran, and a survivor of Post Traumatic Stress Syndrome. He presented a powerful personal story, and also gave some very strong views about the state of Australian cricket and where it is going. All who attended enjoyed the wonderful meal and Tony's presentation.
Another reason for the function was to hear from Paul Amos about his intention to begin campaigning for Coffs Harbour to be awarded a pool match in the 2015 Cricket World Cup. We are committed to helping this cause, and more will be reported later.
At least one new membership application has beenreceived from the event, with some more considering joining. A really worthwhile day!