Top Sports Camp
Due to weather conditions in the Northern Rivers as well as flooding in areas where many of our camp delegates were coming from we, sadly, had no choice but to cancel the inaugural camp in 2011. However, we were able to proceed with the postponed camp in January 2012.
The response to the camp was overwhelming and clearly indicated the need and desire for such an event. Equally as overwhelming was the response and support we received locally from organisations and individuals keen to assist in presenting the best experience possible for our campers.
Our sincere gratitude to everyone who was involved, This includes the many Taverners from our Branch who enthusiastically assisted and, of course, to those members who spent copious hours of planning and organising prior to tthe event.
The children were tutored in golf, basketball, tennis, indoor bowls, swimming, kayaking, tenpin bowling, and indoor soccer and indoor cricket. These photographs show of some of the action: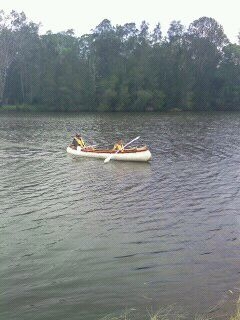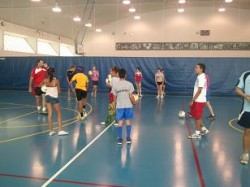 They were fully accommodated at the Southern Cross University residences, and all Camp activities will be supervised by Lord's Taverners members.
One activity for participants was to prepare their own meals from provided ingredients – this is one of the salad dishes:-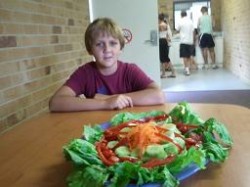 Our instructors were all fully qualified and have Working With Children clearances.
ABOUT LORD'S TAVERNERS
Lord's Taverners is a group of people who share the desire to give the young and disadvantaged a sporting chance.
We raise funds through our own membership subscriptions, through the conduct of such events as dinners, luncheons and other activities to be able to provide sporting opportunities for young people who are disadvantaged in some way.
At the national level we support deaf, blind and intellectually disabled cricketers, as well as the Imparja Cup (a cricket competition for indigenous players), state schools competitions and special assistance to other sportsmen and women.
The Lord's Taverners Northern NSW is based in Lismore, Northern NSW but we are endeavouring to cover much more than just this local area. We have set up a network of "Captains" who act as liaison officers in the outer regions of Northern NSW.