A Message from Matthew Hayden …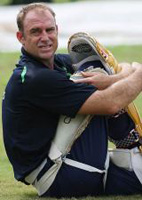 The Lord's Taverners are at the coalface of our great game and now at the cutting edge of technology.
Congratulations to you all at the Northern NSW Branch for the initiative of opening up your very own web page and for the invitation to help launch it.
When you start travelling around our nation as Lord's Taverners do, one soon realises the depth and breadth of our great country, with the internet making big small and small big.
I look forward to continuing our journey in promoting and encouraging aspiring indigenous, young and disadvantaged regional cricketers around Australia. Hopefully, this internet project is a useful tool helping to achieve that objective.
Congratulations.
Matt