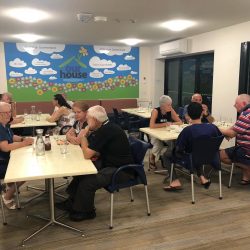 Our Northern NSW branch of Lord's Taverners Australia has a special partnership with "Our House".
Our House is a purpose-built accommodation for cancer patients and their families who are receiving care in Lismore. It also provides accommodation for parents who have children in the Paediatric Ward or babies in Special Care Unit in Lismore Base Hospital.
There are two aspects to our partnership:
Our commitment: Twice a week, Lord's Taverners Northern NSW or another organisation provides the ingredients and prepares an evening meal for all those who happen to be in residence in Our House on that particular night. Some social chit-chat is always provided to those who may value the fellowship.
Our invitation: We work with organisations/companies/schools/churches to provide this great service. We currently have over 20 other organisations involved and would love your organisation to join us in this venture.
You too can become involved! For further information please contact ourhouse@lordstaverners-northernnsw.com.au