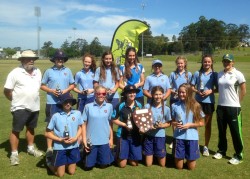 Lord's Taverners Northern NSW co-ordinates the Secondary Schools T20 Cricket Tournaments.  The events are for secondary schools situated between Evans Head and the Tweed District and with possible extension to other areas.
There are three major divisions:
Adam Gilchrist Shield – for Year 9/10 boys (or mixed)Adam Gilchrist is an ex Kadina High School Student, an Australian representative 1999 – 2008.  "One of the greatest wicket keeper/batsman in the history of the game".
Matthew Phelps Shield – for Year 7/8 boys (or mixed)Matthew Phelps is an ex Richmond River High School Student, NSW State player 1998 – 2006.  NSW Pura Cup player of the Year in 2006.
Lyn Larsen Shield – for Year 7/8/9/10 girls only (8 a side)Lyn Larsen is an ex Richmond River High School student, Australian Women's Cricket Captain 1985 – 1993.  World Cup winner and Australian Sports Hall of Fame inductee.
Nominations for each tournament close on the second Friday in July each year and are treated on a first in first served basis.  Nominations are taken until four teams are established for each pool.  If more than four teams nominate in a district then the fifth may be asked to play in another pool.
Winners of each Shield play the winners of the Zones to the south ( Clarence/Coffs Harbour) with a view to determining a Northern NSW Champion each December.
For Rules/Guidelines for the Schools 20/Twenty Competition click here.
For further information please contact T20@lordstaverners-northernnsw.com.au