Official Launch of the Lord's Taverners Northern NSW
The Lord's Taverners Northern NSW Branch was formed on July 15, 2009. The official public launch of the Branch took place on October 2, 2009. It was an event like no other event that has taken place in Lismore before!
Over 100 people from across the country attended the function at Oakes Oval, Lismore, during the Australian Cricketers' Association Annual Masters Regional Tour for 2009.
They enjoyed specially prepared gourmet dishes combined with succulent, fresh North Coast seafood in the company of like-minded people. It was a private function held in the Gordon Pavilion Function Room which provided also for excellent viewing of famous Australian cricket greats strutting their stuff on the pitch in a 20-20 game against a team of hand-picked players from the North Coast. All this happened right here in Northern NSW!!!

A unique experience for all cricket and sporting fans and those who enjoy good food and good company!!!
Michael Bevan… Andy Bichel… Greg Blewett… Greg Campbell… Phil Emery… Wayne Holdsworth… Greg Matthews… Craig McDermott… Len Pascoe… Matthew Phelps… Corey Richards… Greg Ritchie
Click here for the full story of the Tour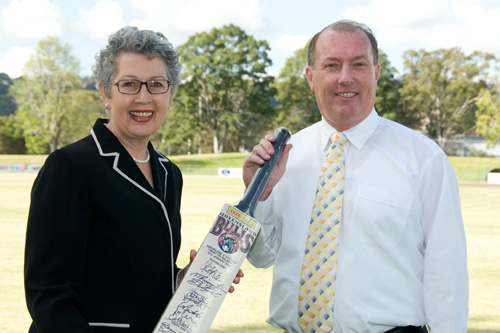 Mayor of Lismore Cr. Jenny Dowell and Lismore City Council's General Manager Paul O'Sullivan at the main pitch on Oakes Oval with the coveted cricket bat signed by the Queensland Bulls players. This was the major prize in the raffle conducted by Lord's Taverners-Northern NSW, as a fundraiser, leading up to the Branch's official launch.