Patron – Adam Gilchrist announced
ADAM GILCHRIST – PATRON OF LORD'S TAVERNERS BRANCH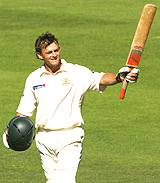 As a major vote of confidence in The Lord's Taverners, Adam Gilchrist accepted the position of Patron of the Northern NSW branch.
Adam said, "Due to the problems of distance, I may not be able to give the branch as much time as I would like but I am committed to the work that The Lord's Taverners do and I'm proud and honoured to have been asked to accept this position in my old home town."
President Warren Noble expressed the branch's gratitude to Adam but said that he believed, knowing Adam, that Adam would probably give much more to the branch than would be reasonably expected. "Just having Adam endorse our branch and the Lord's Taverners in general is a wonderful fillip to us all," Mr Noble said.
Adam was inducted into the position at the Top Sports Luncheon which was held on November 23 at the Southern Cross University. Mr Noble said, "Like our recent Top Sports Night, which featured Kevin Junee, Jodie Fields, Craig Foster and Jim Maxwell, this luncheon was an outstanding event, especially with Adam willing to give us his time and experience as he engaged with the audience."
The luncheon took the form of a sit-down meal during which Adam circulated amongst all the attendees, giving them a chance to meet and chat with him. After the meal, Adam addressed the audience and answered questions from the floor.
Auctions were held, with some very valuable and highly collectable items being offered. Items personally autographed by Adam were eagerly bid for as was a bat signed by the great Sir Donald Bradman.
The Lord's Taverners branch is committed to giving the young and disadvantaged a sporting chance. During the short 12 months of its existence, the branch has already supported a number of projects that has enabled assistance to be forthcoming in a number of situations. Recently the Branch helped four young Northern NSW cricketers towards achieving their cricketing dreams by providing much needed financial support towards their costs of cricket tours to the United Kingdom.
The
Adam Gilchrist and Matthew Phelps Shields
,
a Twenty20 schools cricket competition for Year 7-10 boys from secondary schools from the Tweed and Richmond areas, was held in September. The branch played a major role in the organisation and operational aspects of the entire competition with branch members giving freely of their time and expertise to rally behind the scenes and at all grounds on the competition days.
In January next year, the branch will be holding a special sporting camp for youngsters who are disadvantaged by geography, finances or in other ways – again with the help of the outstanding sponsor of the branch, the Southern Cross University.
"This camp typifies the work that The Lord's Taverners do," said Adam Gilchrist. "Funds are raised to help young people who have any form of disadvantage. Sport is a wonderful way to offer these less-fortunate kids a new way of looking at life."