Alanna Weis wins University Scholarship for 2013
ALANNA WINS SCHOLARSHIP.
Alanna Weis, a young lady from the Casino district in northern NSW, has been awarded the inaugural Lord's Taverners Southern Cross University Scholarship. Alanna will study Early Childhood Education in the School of Education, intending to qualify as an Early Childhood teacher after the next three years of study. Her award will be presented at a Presentation Ceremony at Lismore Campus on Friday 15th March.
Kaylene Hopf, the Chairman of the University Scholarship sub-committee, stated that Alanna was an outstanding applicant who presented well in her written application, and who was most convincing in her formal interview. She said "Alanna stood out from the rest of the applicants because she exhibited commitment and application during her final years at Casino High School, and convinced us that she intends to pursue a career in which she can work with some of the more disadvantaged kids in our society. This is exactly why we are funding the scholarship, and fits in perfectly with our motto of giving the young and disadvantaged a sporting chance."
Chairman Stan Gilchrist said that Alanna had, during her school career, overcome some small disadvantages herself, and was a really good role model for the children with whom she will come into contact.
Alanna wrote to us thanking our branch for awarding her the scholarship:
"Hello Mr Gilchrist, this is Alanna Weis contacting you, the proud and ecstatic recipient of The Lord's Taverners Southern Cross University scholarship which I would sincerely like to thank you for.
"I am very much enjoying my orientation activities at Uni this week and am definitely looking forward to beginning my classes next week. I am aware that this year will be both very challenging and rewarding.
Both my older sister Carissa and younger sister Renee are also studying full time, Carissa at SCU studying nursing and Renee at Casino High in year 10. My Mum (Janelle) is currently studying a Teacher's Aid coarse at TAFE with the hope to also work with children with disabilities in the future, while Dad (Darryl) works long hours on a Macadamia farm starting at 6am and sometimes not finishing till 5 or 6pm."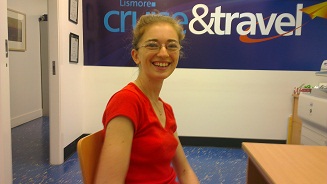 We believe that Alanna is a worthy recipient, and wish her well.