Feature Role Played by Lord's Taverners Northern NSW Branch in Festival of Cricket
Oakes Oval, LISMORE NSW  September 22 – 29, 2009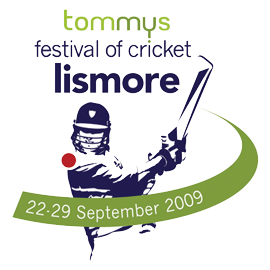 .It was opportune that the Festival of Cricket, an inaugural and prestigious cricket event for regional Australia, was held in the Northern NSW region at the same time of the commencement of the Lord's Taverners Northern NSW Branch!
Lismore's Festival of Cricket provided the perfect opportunity for the Lord's Taverners Northern NSW Branch to be involved in many ways. It presented itself as the ideal forum to raise awareness of the new Branch and assist in the organisation, staging and presentation of the event. In addition, it was a great arena for fund raising and for fellowship for those people who formed the new membership and potential future members.
Attendees to the event saw volunteers who were already Members and Friends of the newly formed Lord's Taverners Northern NSW Branch, assisting in a variety of roles that helped make this event the region's most successful ever.
"We were very pleased to be associated with such an event in this region and honoured to have been given the recognition of what we can deliver in resources and expertise to the event through our Membership," said Northern NSW Taverners' Chairman Stan Gilchrist.
"From screen attendants to scorers, from raffle ticket sellers to pitch duties, we'll worked hard to help the event along. At the same time, we met as many people as we could to spread the word about what "The Taverners" are all about and about the goals we have to give youngsters and those with special needs throughout our region more of an opportunity," he said.
The Festival of Cricket featured a series of 50 and 20-over matches with Australian players such as Brad Hodge, Phil Hughes, Bryce McGain, Shane Harwood, Jason Kreiza, Dirk Nannes and Dominic Thornley. Aside from the players there was an entourage of ex-players like David Boon and Steve Rixon. There were also junior games between competing clubs and schools and curtain raisers that were as exciting as the major games.
"We were pleased to welcome everyone to the event, and as importantly, we appreciated the opportunity to let people know about the work of the Taverners and about how everyone could be involved in our quest to give the young and those with special needs a sporting chance," said Mr Gilchrist.