Our Community Barbeques at Our House.
Some years ago, while visiting Adam Gilchrist (our Patron) in Perth, parents June and Stan were invited to attend an evening meal at Ronald McDonald  House in Subiaco. The meal was being provided by one of Perth's corporate organisations, as it is every weeknight at this facility, and Adam was attending in his role as Patron.
On their return to Lismore, June and Stan became aware of the new facility in Lismore, "Our House", which performed a similar function to that of Ronald McDonald House. And in an inspirational moment June suggested that our branch of Lord's Taverners could do something similar at Our House – provide a meal to the occupants on a regular basis, perhaps monthly.
Our branch loved the idea and we formed teams of six members who would provide the ingredients, prepare and serve the meals to whoever was in the house, and provide some social interaction to these people who were there as a result of necessary treatment to themselves or family members. And we planned to do this on a once-a-month basis.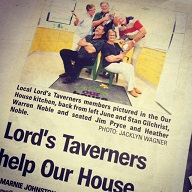 Then came the idea that we should try to involve other organisations, so we held a well-advertised public meeting. We were overwhelmed at the response, and to cut a long and exciting story short, meals are now provided every Thursday night, every first Tuesday of each month, and still growing. Groups other than the six Taverners' teams include banks, Lions and Rotary clubs, sporting teams, church groups, school groups and special groups like "The Mahjong Mafia".
On 22nd January the directors of Our House held a special afternoon tea to which they invited representatives of those corporate organisations and other groups who were providing the Community Barbeques – as our dinners are now called. The directors were effusive in their praise of the effect that the dinners were having on occupants, most of whom would prefer to be somewhere else rather than attending cancer treatment away from home here in Lismore.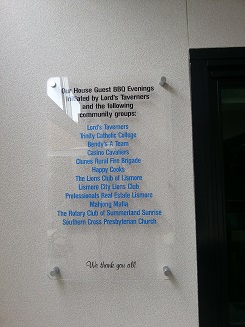 Not only were a large majority of the groups present, but the two children of one of the providers were there as well, and occupied themselves completing sketches about Our House, and here are their results – sketches by Teodoro and Sebastiano Astone:
The meals program continues as one of the most effective activities our branch provides, thanks now especially to Margaret Byrne and Judy Pryce, members of Warren Noble's Our House Committee, who coordinate all of the groups and ensure the smooth progress of the program. June Gilchrist is the fourth member of the committee, and we thank her for the concept through which we are able to give these disadvantaged people a "sporting chance".