Become a Corporate Partner.
Our branch offers exclusive opportunities for organisations to become involved in one of our major programs, the University Scholarships program for disadvantaged students (or those who propose to work with disadvantaged children on graduation) at Southern Cross University and at The University of New England. These Corporate Partnership donations are fully tax deductible (see Taxation Advantage below).
How will the fees be used?
Corporate Partnership donations will be directed to our Lord's Taverners (Northern NSW) University Scholarship Fund, which is used exclusively to finance our undergraduate scholarship at Southern Cross University and at The University of New England. Corporate Partners' donations will be the major component of this fund, and Corporate Partners will be clearly identified through all publicity!
If you would like to secure one of these exclusive Corporate Partnerships, please click on the APPLICATION FORM and return it to the address shown, or click here to apply online.
What is Lord's Taverners about?
Our organisation was established by a group of thespians as they enjoyed an ale and watched cricket from the Tavern at the Lord's Cricket Ground in London to encourage and promote participation in sport, particularly by youngsters, the disadvantaged and those with special needs. We raise funds for coaching and the provision of sporting and academic facilities and opportunities enabling those involved to become proficient and knowledgeable in their chosen fields. At the national level, we support blind cricket, indigenous cricket, deaf cricket, and intellectually impaired cricket.
Membership of Lord's Taverners is open to all who support its aims and objectives and have an affinity with sport. Members enjoy various privileges, such as early ticketing to special events (at reduced prices).
What does the Northern NSW branch do?
Lord's Taverners Northern NSW Branch was officially launched in September 2009. At the grass roots level, we conduct Twenty20 cricket competitions for Years 7-10 at North Coast schools and an intensive sports camp for disadvantaged youth. Our visits to Tenterfield, helping to re-establish cricket there, have become an annual event. We also provide financial assistance to deserving young people who might need opportunities to pursue their sporting dreams.(Check a full list of our functions on our Home Page.)
UNIVERSITY SCHOLARSHIP
Very importantly, we also fund a scholarship at Southern Cross University for either a disadvantaged student, or for a student who intends to work with disadvantaged youngsters.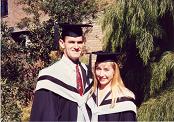 What does Corporate Partnership mean?
Our Corporate Partnership Package, being offered to Northern NSW organisations, means that no particular person needs to be a designated member, but each corporate body will enjoy a package of members' benefits. For a fully tax-deductible donation of $1000 per annum, you will receive two free tickets to events, plus full member rights for up to two (2) personnel or nominated guests . Higher donations attract greater benefits. As a corporate partner you'll also receive recognition and signage space at all functions and all branch events. Promotional material and publicity for special events throughout the year will carry your name.
How will the fees be used?
Corporate Partnership donations will be directed to our Lord's Taverners (Northern NSW) University Scholarship Fund, which is used exclusively to fund our undergraduate scholarship at Southern Cross University. Corporate Partners' donations will be the major component of this fund, and Corporate Members will be clearly identified through all publicity!
TAXATION ADVANTAGE.
Because we have a specific fund used for our Scholarship at Southern Cross University , we have been granted Deductible Gift Recipient status by the Australian Taxation Office. So we are now able to issue you with a specifically annotated receipt for your donation, allowing you full tax deductibility.
Meet Our Partners
Lismore Rugby Union Club
Lismore Rugby Union Club was established in 1968 and is a foundation member of the Far North Coast Rugby Competition. It has multiple senior and junior sides who play throughout the Northern Rivers.
Mountain Blue Farms
 Mountain Blue Farm is a family owned and operated company, established in 1978, that produce the highest quality blueberry fruit and genetics, along with an extensive nursery and marketing service. Thanks to Ridley Bell for his ongoing support.
Kerrys Klothes
KerrysKlothes is a boutique clothes shop in Kiama for women who want classic, chic and stylish apparel for all occasions. In house uniquely designed clothing a specialty. View online through Instagram.
Seawind
Seawind build world class ocean going cruising catamarans designed by sailors for sailors. The Seawind 1600 was recently voted best sailing catamaran in the world in a large worldwide survey.
Southern Cross University is an Australian public university, with campuses at Lismore and Coffs Harbour in northern New South Wales, and at the southern end of the Gold Coast in Queensland. It is ranked in the top 100 young universities in the world by the Times Higher Education World University Rankings. 
The Northern Inland Academy of Sport (NIAS) is an incorporated, autonomous, community based organisation established in November 1992 to identify and prepare talented sportspeople in the Northern Inland region to reach their maximum  potential, on and off the field.
La Baracca is situated on the fringe of Lismore's CBD. Family owned and operated, this stylish dining experience is fast becoming known as one of the best café/restaurants on the North Coast.
Frizelle Sunshine Automotive
James Frizelle's Automotive Group was established in 1985 and was one of the largest motor vehicle dealers in Queensland, representing 15 brands across 6 sites throughout South East Queensland and Northern NSW
RB Contracting
Rugenydyke and Bashforth Contracting provide earthmoving and civil contracting services based in the NSW Northern Rivers.
Lismore Swans Juniors AFC
The Lismore Swans was the very first AFL club in far northern NSW, established in 1984 and playing in the Gold Coast League. Like grassroots Aussie Rules everywhere, Lismore Swans Juniors became the lifeblood of the Senior Club.
Morgans
Morgans is Australia's largest national full-service retail stockbroking and wealth management firm, servicing over 240,000 client accounts from offices in all states and territories.
Coachcap
Coachcap is a family owned and operated business providing sporting teams, industry and corporate business with quality products at the best possible prices.
Goonellabah Medical Centre
At Goonellabah Medical Centre, we work as a team to make your health experience easier.
Parker & Kissane Lawyers
Parker and Kissane were established in 1902. We are a medium sized legal practice comprising of 2 Partners, 5 employed Solicitors/Associates, and 19 support staff. Our Head Office is in Casino with offices in Kyogle and Lismore. The Firm offers a complete range of legal services including Estate/Probate, Family Law, Commercial Conveyancing, Conveyancing, Litigation and Criminal Law to all sections of the community.
Lismore Workers Club
Lismore Workers Club offers fully licensed facilities across several different venues in Lismore. It is a leading destination for major touring shows and live entertainment and provides a variety of dining options.
Lismore City Printery
Lismore City Printery has been operating in Lismore for over 60 years offering a comprehensive range of print solutions. Customer communication and service are at the heart of what we do.
O'Brien Electrical & Plumbing
O'Brien Electrical & Plumbing has over 20 years of experience servicing clients across the Northern Rivers. It has a professional and highly qualified team that can assist you with all your electrical and plumbing services.
Lismore Toyota
Finding a quality car at a fantastic price is not difficult at Lismore Toyota. We know that our customers are looking for great deals throughout the Toyota range. Contact a Team Member today about our current specials.
The Book Warehouse
The Book Warehouse Lismore has the largest selection of books in the city and also stocks a large range of art supplies and gifts including calendars, gift cards and more. Our staff are friendly and knowledgeable and will be able to help you find the book you are looking for.
Lismore Timezone
Lismore Timezone Watchmakers has been operating for around 75 years, with Graeme and Ann taking over the business in 1996. The primary aspect of the business is the repair of all types of watches and clocks including antique models.
Trinity Catholic College
Trinity Catholic College is a co-educational secondary school situated in Lismore offering students the opportunity to excel academically, within the Creative Arts and across 20 different Representative Sports. Community Service is an important part of the school ethos.
NTech Media
At NTech Media we specialise in web design & development using modern tools and proven best practice methods to develop fantastic websites and secure online stores.We attend to everything you need from initial consultation and needs assessment to domain registration and delegation, professional creative web design and search engine optimisation, mobile and tablet compatibility, Facebook applications, secure online payment systems, newsletters and mailing lists among a host of other professional creative web design & development services.Our award winning team have the right approach and tools to professionally satisfy requirements from simple to sophisticated. CLICK HERE to talk to us now about a solution which suits your needs