Save the Date
Peter Fitzsimons will be joining us as a special guest on Wednesday the 26th of November 2014.  At the venue of The Lismore Workers Club he will be speaking at the conclusion of 2014 Pepsi International Cricket Council East Asia Pacific Men's Trophy.  Full details regrading this event will be posted on the website, via our Facebook Page as well as advised to our members.
Peter will be on a national book tour publicizing his newest book 'Gallipoli' and has kindly given us his time to speak at this event.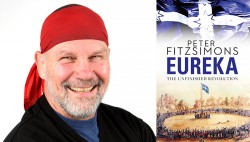 There will copies of Peter's books available for purchase, including his new book 'Gallipoli'.