Special Grant for Special Kids
At our most recent Grants Meeting the committee was touched by a letter that was attached to one of the grant applications received.  It can be confirmed by all members that it is always a very special privileged to be able to assist disadvantaged children, and this was certainly no exception.
Below is the letter that was received;
"Dear Mr Gilchrist,
Please find attached grant applications relating to our three children. Our daughters Cassidy (13) and Mackenzey (12), and our son Charlie (8).
Cassidy and Mackenzey have been heavily involved in sport over the last 5 years, competing in lots of State Championships for Cross Country, Althletics and Swimming. Mackenzey has even made it to a National level in Cross Country over the past two years, and has medalled (silver) at both.
Our son Charlie has Autism, Mild Cerebral Palsy and ADHD which has been very challenging for him and for us as a family.
Charlie has always been on the side lines, watching and never being able to participate. This year we managed to get Charlie engaged in Cross Country running, just like his big sisters. It started with his School Cross Country Carnival, and we weren't even sure if Charlie would attempt the 2km with his fellow peers, but with the amazing help of his teachers from the Support Unit, Charlie ran the whole way!!. We were the proudest parents on the earth!!! So were his teachers!!
This then led to Charlie competing at the District Cross Country Carnival held in Bangalow. He was in the 8/9 Boys AWD (Athletes With Disabilities) 2km race. The course was "different" and made Charlie very anxious. He refused to put his school running singlet on, and was repeating that he "don't want to" regarding the race. We walked the course, but it looked very unlikely that we were going to get him to start, until I mentioned a treat at the canteen afterwards. So Charlie ran the race, received his first ever trophy and bee-lined to the canteen. Happy Days!!
This then led to Charlie competing at the Zone Cross Country Carnival which was held in Bangalow again. I was very relieved that it was familiar to him this time around. Being an AWD athlete, Charlie has to finish his 2km race in a certain time (under 12 mins) to be able to gain selection to the next level. So far Charlie had been doing that. Charlie won his race again, and gained selection to the Regional Cross Country Carnival held in Kempsey last Friday. We were so excited!!!
As Charlie was gaining selection to the next levels, so were his sisters. Mackenzey won all her races (school, district and zone) to make it to regionals in Kempsey and Cassidy won her school carnival and came second in her Zone carnival. So all three Ormiston kids were going to Kempsey to compete, which was a very proud moment for Ian and I. We never thought we would have all three children doing the same thing at the same time.
So we went to Kempsey last Friday, and by this time, Charlie had worked out that he was running, and was very keen to get the race started. He ran so well that he won his event again, which has now gained him selection to compete at the NSWPSSA State Cross Country Championships to be held in Sydney!!!! Both Cassidy (came 3rd) and Mackenzey (1st) have gained selection as well and will be going to Sydney with Charlie to compete.
The truly beautiful part of this story is that Charlie genuinely loves running now and it makes him very happy, which makes us immensely happy.
We have managed to cover all expenses ourselves up to now, but with some difficulty. We are a single income family as our son's disability has restricted my ability to work. Having all three children now qualify for State level, and Mackenzey looking likely to again qualify for Nationals (to be held in Albany, Western Australia), we are finding the costs involved in continuing to give our children this opportunity increasingly difficult to meet.
We would be most grateful for any assistance that would allow us to continue to give this opportunity to our children.
Kindest regards,
C.O (Mother)"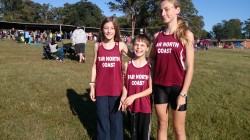 Here is Charlie with his Sisters