Tait Jenkins Road To Rio Update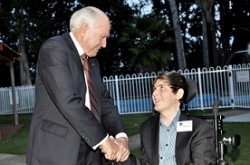 Tait Jenkins is a recipient of Lord's Taverners Grant and the following is an excerpt from North Coast Academy of Sport and Australian Paralympic Committee Newsletter .
The dream of competing at the 2016 Rio Paralympic Games has drawn closer for Australias elite athletes , after a successful tournament at the DEFI SPORTIF World Boccia Open in Montreal Canada.
The squad which included Tait Jenkins notched up several wins to add to their individual world rankings,which are crucial to qualification for the Rio Games.
Tait Jenkins was one of Australias best performing athletes making it through to the Quaterfinal stage of his BC3 competitions. Tait who is from the NSW North Coast was beaten in his Quaterfinal by Russias Vasiliev 4 – 2 to end his tournament. Tait has not yet qualified for Rio and will rely on building up his ranking points in events in 2015 for qualification to RIO.
Australia has not competed in Boccia at the Paralympics since Sydney 2000. Boccia is a precision sport for people with  severe  Physical impairments. Competing in wheelchairs , athletes throw , kick , or use a ramp to propel leather ballsas close as possible to a small white ball which serves as a target.
Lord's Taverners Northern NSW wish Tait and all of the members of the squad the best of luck as they attempt to qualify.