Tait Jenkins wins GOLD in Australian Wheelchair boccia championships
 Tait Jenkins, a recent recipient of a Lord's Taverners grant, has just competed in the Australian wheelchair boccia championships, and won GOLD.
Tait's mum, Fiona, writes: "Tait along with two other up and coming hopefules were invited to take part in the AUSTRALIAN NATIONAL TITLES  AT THE SYDNEY SPORTS ACADEMY last week. This was to be as a source of experience before they attended the Road  to Rio Paraolympic Committee invitation to attend a 2 day camp to put  their hands up to be considered for Rio . This is to be a 4 year  journey with training along the same lines of any committed athlete. To be considered is his commitment, and our ability  to financially cope. Big decisions to be made!!
"The big news however is Tait and his team won gold in the pairs event, a big upset and unexpected, considering they have not trained together. Tait ,Daniel and Siobhan we called the Young  Guns. Will send you a  picture if you like."
We'd love the photo, Fiona! And here it is!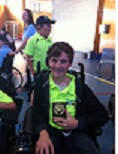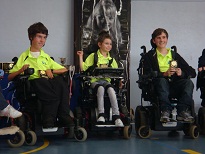 And here are the winning lads:
                                                                    Daniel, Sohan and Tait.