University Scholarship Launched
Watched by other members of the Scholarships Sub-committee, the Chair Kaylene Hopf today signed off on the Lord's Taverners (Northern NSW) University Scholarship.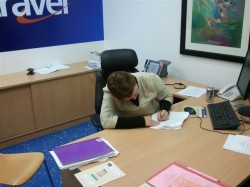 The scholarship is valued at $5,000.00 per annum, and will be awarded to an undergraduate student in Education or in Health and Human Sciences at Southern Cross University, commencing in 2013.
To qualify for the scholarship, the student must be able to establish either-
that he/she is disadvantaged according to one of the Lord's Taverners' definitions of disadvantage, or
that he/she intends to work in a career involving young people who are themselves disadvantaged according to the same definition.
The student will, of course, also have to qualify for entry to the University.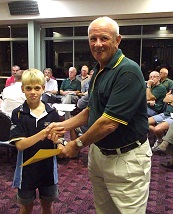 President Denis Byrne, also a key member of the Scholarships sub-committee, (and here seen awarding a grant to Miles Gibson) said "We believe that this is the only scholarship sponsored by a Lord's Taverners branch in this country, so we are very proud to have established yet another link with Southern Cross University. This scholarship will beneift more of the "young and disadvantaged" to whom we can give "a sporting chance" – which is indeed our motto! The University has been a wonderful sponsor throughout our short existence, and we see this as one small way to try to repay their trust and encouragement towards our branch.""
The scholarship will be promoted by the University in its comprehensive information packages, and we are sure that there will be an awardee starting studies next year. A link to those information packages will be posted on this website in the very near future.
To fund the scholarship, we will soon be launching a corporate sponsorship program with all donations being Tax Deductable Gifts. These donations will be placed into a special fund administered according to the rules and regulations of the Australian Tax Office, with more funds being diverted as necessary from our normal operations and fund-raising activities.
This has been an exciting development for Lord's Taverners Northern NSW.